The gateway of South, Chennai is not a usual travel destination but once visited it will leave you wanting for more days of stay. This capital city of Tamil Nadu state boast of being one the metropolitan city of India as well as a historical significant in Indian history. The best way to admire this captivating city is through 1 day Chennai tour packages by car.
With its marvellous structures depicting ancient traditions and culture apart from architectural excellence, serene beaches alluring you with their shimmering sands. Its breathing views of sunset and sunrise, mouth-watering cuisine, proximity to many other tourist destinations and rich flora and fauna, Chennai does captivate everyone.
Our Chennai one day tour packages, that we have listed with the help of top tour organisers in Chennai, allow you to explore Chennai in a hassle free manner, where all your requirements are take care of.
From commuting to various sightseeing places to booking entry tickets if applicable to arranging for any extra help if required, these Chennai tour packages ensure that your day is spent in the best possible way.
If in case, you have more than one day in Chennai and would like to explore the city at leisure then you can hire a taxi from these best car rental companies in Chennai and travel at your own pace. Our Chennai tour organizers can also customize a 1 day Chennai tour package as per your list of tourism places and in your budget.
List of Top Places to Visit with 1 Day Chennai Tour Packages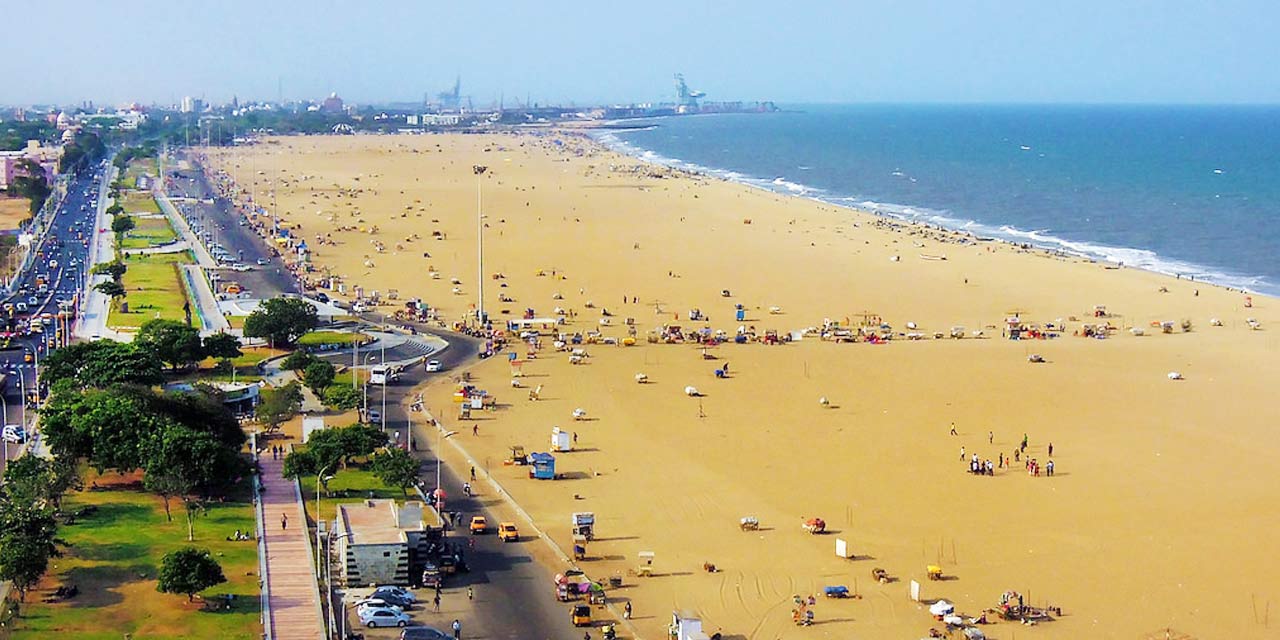 A tour to Chennai cannot be without a visit to Marina Beach. The longest urban beach in India, Marina Beach offers its visitors with a mesmerising sunset and sunrise view. Running along the Coromandel coast on the Bay of Bengal, it also enjoys an ideal location.
Opposite to it, stand some of the prominent buildings of the city such as Madras University, Swami Vivekananda Museum and House, Presidency College and AIR. Activities such as pony rides and ample of food stalls offering delicious local snacks, make this beach one of the popular hangout spot even for local residents.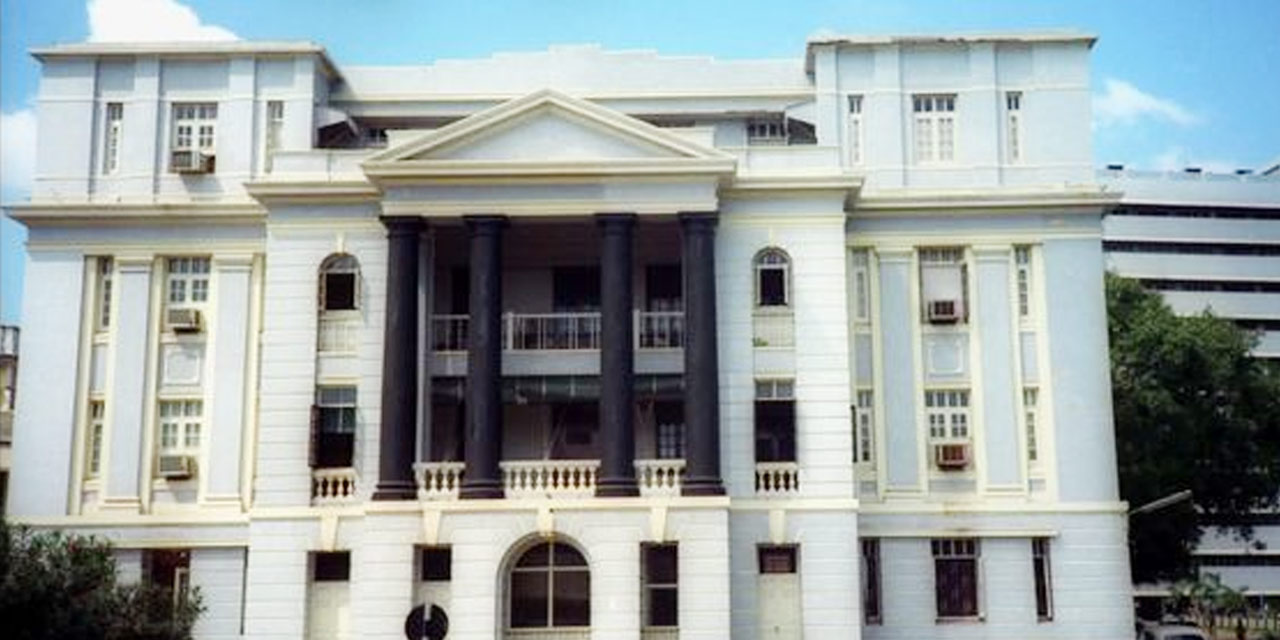 Being the first English fortress in India, Fort St. George was founded in 1644. A must visit in Chennai, Fort St. George consists of two primary sections- Fort Museum, where an exquisite statue of Lord Cornwallis welcomes you and St. Mary Church, which is one of the oldest churches in Indian built by British.
The fort complex not only holds historical significance but is also quite important in present times as it houses prominent buildings such as Legislative Assembly and various administrative buildings of Tamil Nadu Government.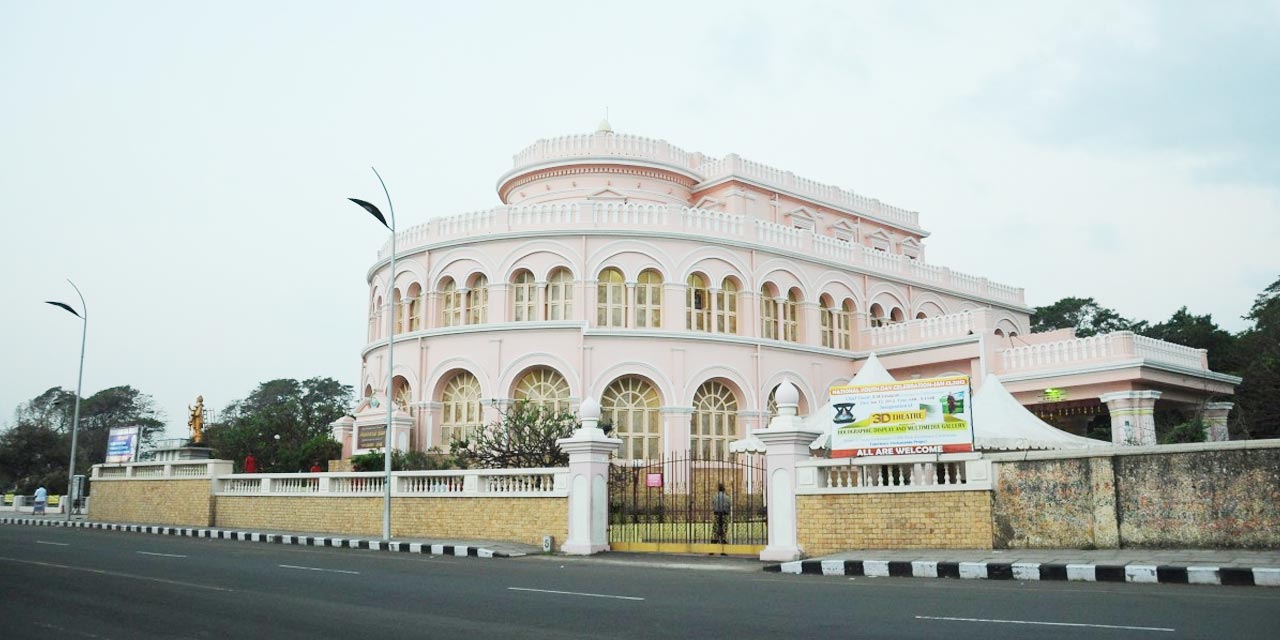 One of the most popular sightseeing places in Chennai, Vivekananda House and Museum is not only a place that gives your insight into the life of India's one of the greatest saints and leaders but also holds a history in itself. Having been built for various purposes and borne different names, this house has a history of its own which did tell us about the changing time.
It was initially built to be used as Ice house in 1842. Later it was bought by a known lawyer Biligiri Iyengar who names it after his friend, Castle Kernan. In this house, Swami Vivekanand stayed for a few days on his tour to Chennai in 1897, after which this house became popular as Vivekananda house.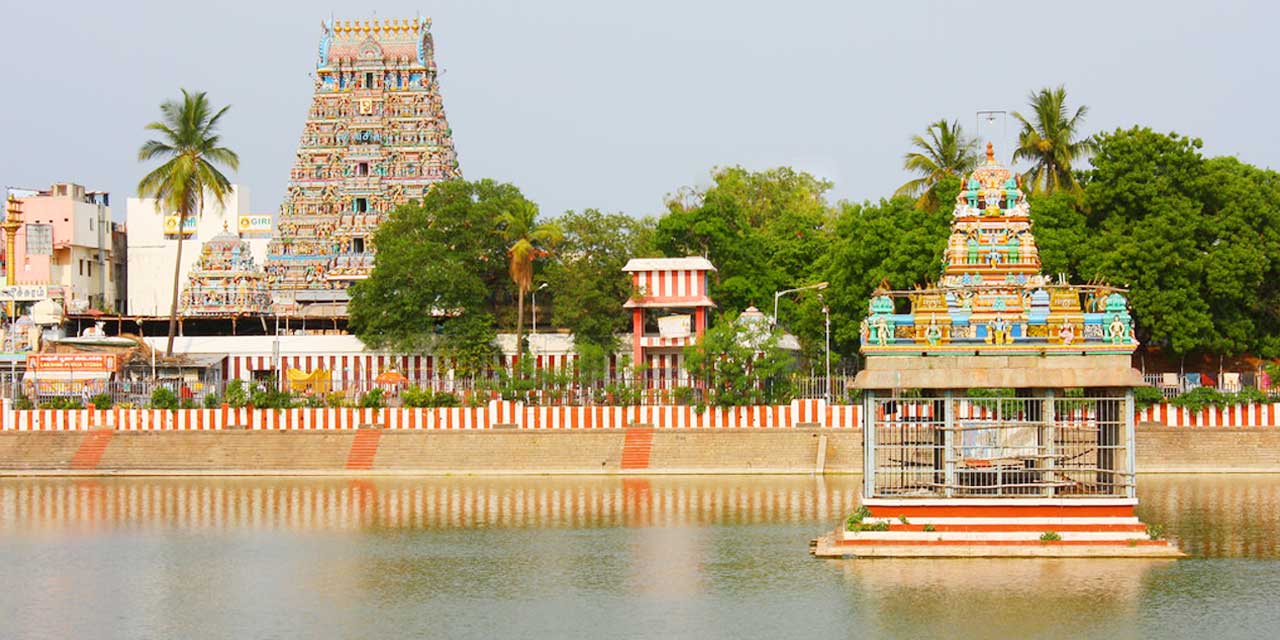 With A Dravidian style of architecture and a historical background, Kapaleeswarar Temple attracts not only hordes of devotees but also history enthusiasts and architecture lovers. Considered to have been built during the rule of Pallava Kings in 7th century, this temple was destroyed by the Portuguese. It was rebuilt to its present structure in 16th century. Dedicated to Lord Shiva and Goddess Karpagambal, this temple is one among the oldest temples in Chennai.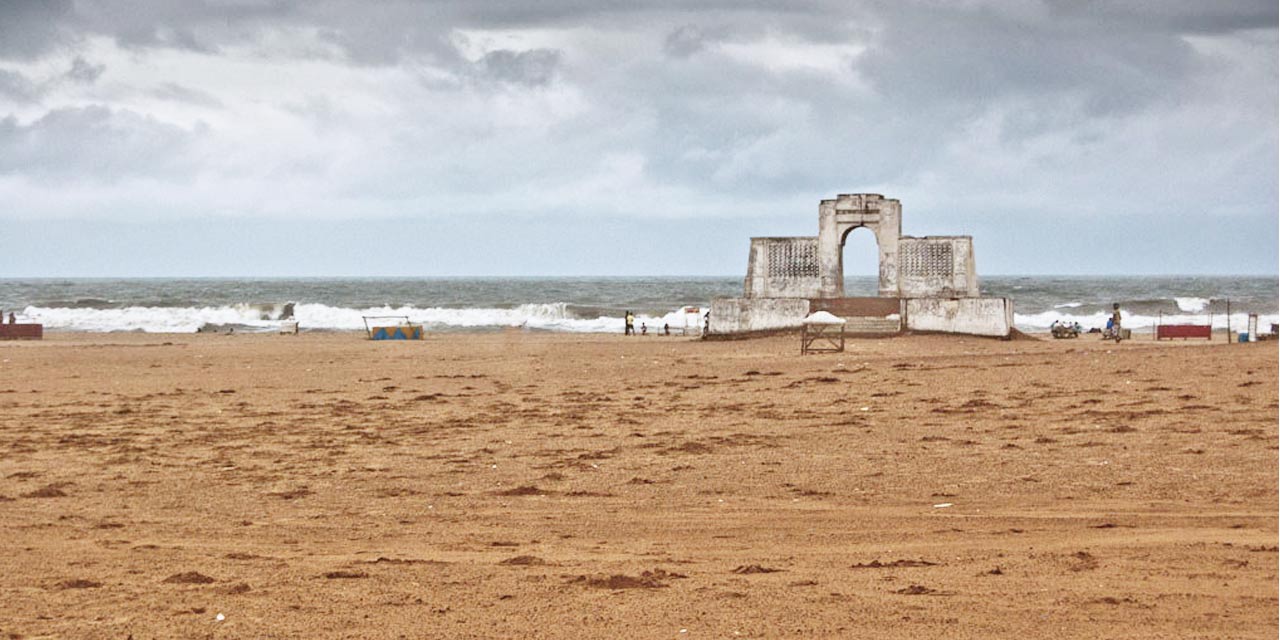 Named after Edward Elliot, who was once a chief magistrate and superintendent of Police in Madras, Elliot's beach is an ideal place to include on your 1 Day Chennai Tour Package by private cab, if time permits. Also known as Besant Nagar Beach as it is located in Besant Nagar. This beach offers the relaxing environment with shimmering beach and lesser crowd. The Ashtalakshmi Kovil and Velankanni Church are located nearby.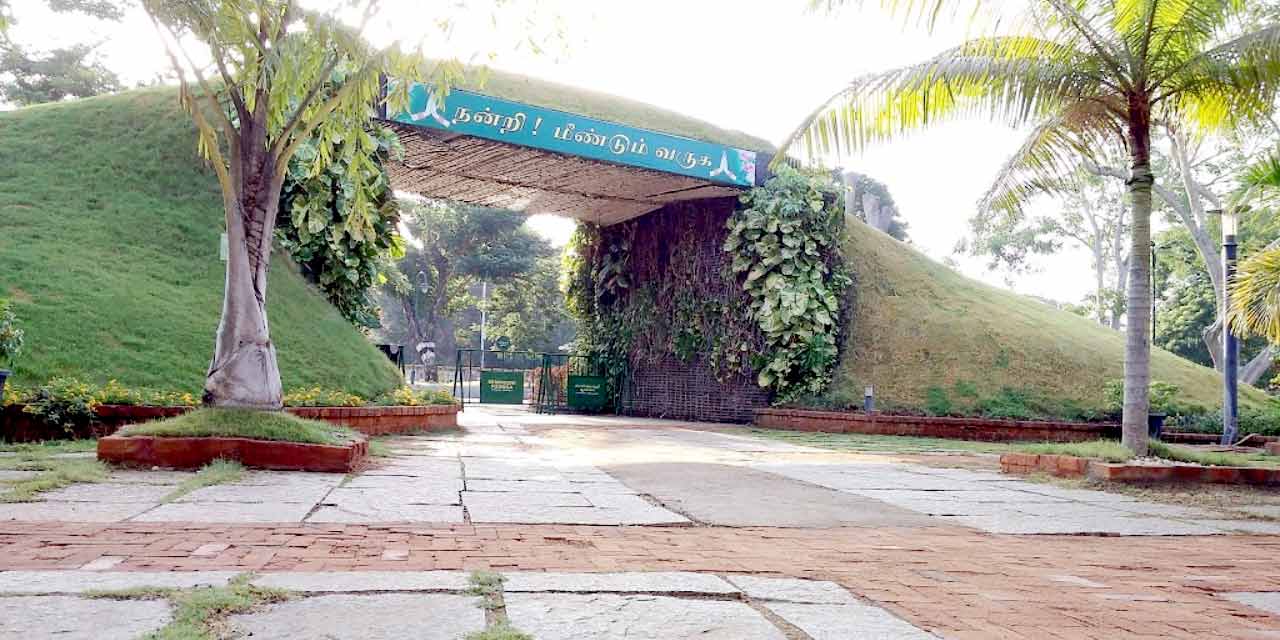 Another popular place that you can visit on your Chennai one day tour is the Semmozhi Poonga Park. Established by the state horticulture department, it was opened in 2010 for the public. It is spread over an area of 20 acres, presenting a refreshing setting with rich flora to explore. It has many interesting sections apart from rare medicinal herbs and varied varieties of plants and trees. Some of the sections are water and rock garden, fern garden, butterfly park, etc.
Not only these tourist attractions, this city has many more places that are worth visiting. Customers can contact the listed Chennai travel operators and request for customization of their 1 Day Chennai tour packages. With the assistance of our travel experts along with the tour organisers, travellers can make their Chennai tour to suit most of their preferences and requirements.
Some of the sightseeing places in Chennai that can be visited on your Chennai 1 day tour package by private car are Madras High Court, Birla Planetarium, Connemara Public Library, National Art Gallery, Guindy National Park and Snake Park, Kolavai Lake, Crocodile Bank, Arignar Anna Zoological Park, Pulicat Lake, Nettukuppam Beach, Cove long Beach, Breezy Beach, Dakshina Chitra, Sri Parthasarathy Temple, San Thome Basilica (St. Thomas Cathedral Basilica), Annai Vailankanni Shrine, Thousand Lights Mosque, etc.
Another place that you can include on your one Day Chennai tour package, which we have designed by collaborating with the leading tour operators in Chennai, is Raj Bhavan, visiting this place tourists can explore not only its impressive structure but also memorials of many great personalities such as Kamarajar, Rajaji, Mahatma Gandhi and Bakthavatsalam. These memorials have been built on the stretch near Raj Bhavan.
Best Way to Reach Chennai
One of the best aspect of Chennai is its well connectivity to the rest of India and the world. This metropolitan city enjoys an efficient system of railways, roadways and airways that offer a wide range of transportation choices to travellers. One of the best ways to explore this historical wonder is by hiring a cab in Chennai.
Being connected to five highways along with the Asia's largest bus stations as well as having three major railway stations such as Egmore, Chennai Central and Tambaram, Chennai makes it utterly easy for every tourists. It receives trains and buses from most of the major cities and town of the India.
The Chennai international airport makes reaching by air also accessible for everyone. It receives flights from all over the world and country.
Commuting within Chennai is also as comfortable as reaching this city. You have multiple transportation choices to opt from varying from city buses, local train, metro line to taxis and auto rickshaws.. If in case you are wondering on the best available option, you can look at some of these best car rental companies in Chennai.
For those who want more than 1 Day Chennai Tour Packages and would like to have a complete holiday experience, we at Chennai Tourism, a division of Holidays DNA, have an extensive list of all-inclusive Chennai tour packages. Through these tour packages, you can explore Chennai as well as pamper yourself with utmost comfort as we take care of hotel booking, transportation (to and fro pick up), breakfast and sightseeing Chennai by car.